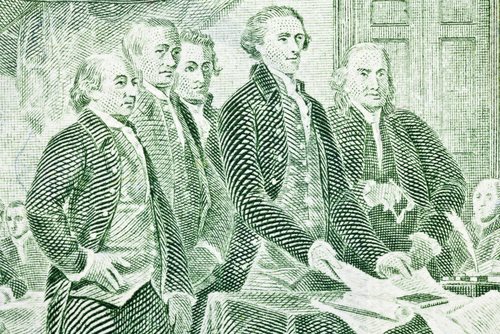 Founding Fathers: William Johnson
William Samuel Johnson was born on October 7, 1727 in Stratford, Connecticut. He was already a well-known figure before the American Revolution. He was the son of Samuel Johnson, who was a prominent Anglican clergyman and later the president of King's College.
William Johnson was first homeschooled. Afterwards, he attended and graduated in 1744 from Yale College. He continued on and received a master's degree there in 1747. While his father wanted him to enter the clergy, William Johnson decided to pursue a legal career. He had taught himself the law and after he was admitted to the Connecticut bar, he started a practice. Here he developed an important clientele quickly which included many from Connecticut as well as New York City and established many business connections which extended beyond Connecticut. In 1749, he married Anne Beach, who was the daughter of a local businessman. Together the two of them had six sons and five daughters, but many of their children died before seeing adulthood.
In the 1750s, William Johnson began his public career as a militia officer in Connecticut. In both 1761 and 1765, Johnson served in the lower house of the assembly. In the 1766 and 1771 election, he was also an elected member of the upper house. During the American Revolution, William Johnson was disturbed by the conflicting loyalties. While he shared many of the same grievances against the British government as his fellow colonists, he still kept strong transatlantic ties and had trouble choosing sides.
William Johnson finally decided to fight for peace between the colonies and Great Britain and to go against the extremist Whig faction. Between 1772 and 1774, Johnson acted as judge of the Connecticut supreme court.
Johnson was elected to the First Continental Congress in 1774, but he chose not to participate. When hostilities broke out, Johnson only participated in peacemaking activities. In April 1775, he was sent by Connecticut to speak to British General Thomas Gage about stopping the bloodshed. Unfortunately, he failed and soon fell out of favor with the radical patriot elements who had gained power in Connecticut government. William Johnson was arrested in 1779 for communicating with the enemy, but he cleared himself of these charges and was released.
After the passions of war had settled down, William Johnson went back to his political career. As a member of the Continental Congress from 1785 to 1787, Johnson was one of the most significant and admired delegates. Because of his influence in the Constitutional Convention, William Johnson did not miss any sessions after arriving to the convention on June 2. During the ratification, he worked towards ratification of the Constitution in Connecticut.
William Johnson took part in the new government as a Senator where he was involved in passing the Judiciary Act of 1789. In 1791, William Johnson resigned because he wanted to devote his time to his presidency of Columbia College from 1787 to 1800 in New York City. In 1800, he retired from the college. His wife had died around this time and a few years, he got remarried to Mary Brewster Beach, a relative of his first wife. They lived at his birthplace, Stratford, Connecticut. He passed away there on November 14, 1819 at 92 years old and was buried at Old Episcopal Cemetery.
Comments
comments