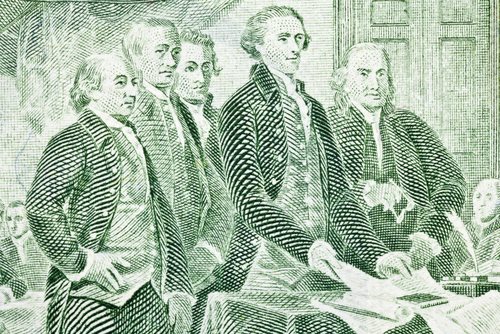 Founding Fathers: Gouverneur Morris
Gouverneur Morris was born on January 31, 1752 at Morrisania estate, in Westchester County, New York. His family was very well off and had a long record of public service. His older half-brother, Lewis, was also a founding father who signed the Declaration of Independence.
Gouverneur Morris was educated by private tutors and later attended a Huguenot school in New Rochelle. In the early part of his life, he lost one of his legs in a carriage accident. He went to King's College in New York City and graduated at the age of 16 in 1768. He then read law and after three years. After this, he gained admission to the New York bar.
When the American Revolution loomed on the horizon, Gouverneur Morris became more interested in political matters. Because of his conservative views, he first feared the movement. However, in the beginning of 1775, he sided with the Whigs. That year, he represented Westchester County and took a seat in Revolutionary provincial congress of New York from 1775 to 1777. In 1776, when Gouverneur Morris also served in the militia, he drafted the very first constitution of the state of New York. He also joined the council of safety in 1777.
From 1777 to 1778, Gouverneur Morris sat in the legislature and from 1778 to 1779, he also sat in the Continental Congress as one of the youngest and most intelligent member. During this time, he signed the Articles of Confederation and also drafted instructions that provided a partial foundation for the treaty ending the Revolutionary War. He was also a close friend of George Washington and one of his most powerful congressional supporters.
Gouverneur Morris ran for reelection to Congress in 1779 but lost. He then relocated to Philadelphia and went back to practicing law. In 1781, he went back to his public career as the principal assistant to Robert Morris, which he held for 4 years.
Gouverneur Morris became one of the leaders at the Constitutional Convention. He also served on many committees and was involved in drafting the Constitution. Later, Gouverneur Morris left public life for a time to focus on. In 1789, Gouverneur Morris joined with Robert Morris in a business venture, and traveled to France, where he saw the beginnings of the French Revolution.
Gouverneur Morris stayed in Europe for about a decade. In 1792, President Washington appointed him as Thomas Jefferson's replacement as Minister to France. In 1799, he returned to the United States. The next year, Morris was elected to complete an unexpired term in the United States Senate. As a strong Federalist, he was defeated for reelection in 1802 and left office the next year.
Gouverneur Morris and moved to Morrisania. In 1809 he married Anne Cary and had one son. During his final years, he continued speaking out against Democratic-Republicans and strongly opposed the War of 1812. Between 1810 and 1813, he also served as a chairman of the Erie Canal Commission.
Gouverneur Morris died at Morrisania, New York on November 16, 1816 at the age of 64. He was buried in New York City at St. Anne's Episcopal Churchyard.
Comments
comments