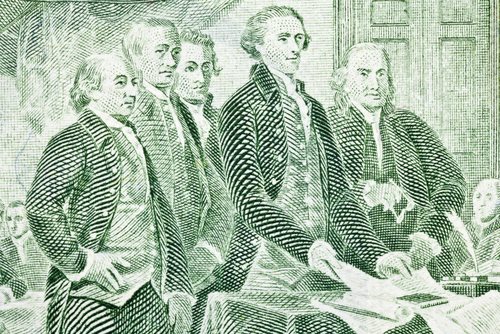 Gouverneur Morris is a name that is often lost in the pages of history when compared to some of his contemporaries. Yet he was a man of great importance during the American Revolution, the drafting of the United States Constitution, and early US politics. This article outlines his life story, his contributions to America, and his legacy.
Early Life and Career
Gouverneur Morris was born on January 31, 1752, in Morrisania, New York, to Lewis Morris and Sarah Gouverneur. His family was one of the wealthiest in the colony of New York, and they owned vast amounts of land in present-day Bronx and Westchester counties.
Gouverneur's parents believed in a classical education for their children, and with that in mind, they sent him to King's College in New York City (now Columbia University) at age 12. He graduated at the age of 16 and then studied law under the tutelage of William Smith Jr.
In 1774, Morris's father died, and the young man was left in charge of the estate. He managed it so well that he began to earn a reputation as a businessman, even beyond the borders of New York.
Morris, an outspoken opponent of British tyranny, became very active in the revolution. He wrote patriotic pamphlets and speeches to rally support for the cause of independence. His fiery anti-British speeches gave him a reputation as a leading patriot.
Political Career
After the revolution, Morris was elected to the New York State Assembly. He helped draft the state's first constitution and also served as a delegate to the Continental Congress.
In 1787, Morris played a major role in writing the United States Constitution. He was one of five men who drafted the Constitution and wrote its final wording. Morris's contributions to the Constitution are extensive, and his hand can be seen in many critical parts of the document.
One of Morris's contributions to the Constitution was the Preamble. This famous passage begins with the words "We the People of the United States" and outlines the six purposes of the new government. Morris is widely credited with writing this famous introduction, and it remains one of the most recognized parts of the Constitution today.
Morris also wrote Section 9 of Article 1 of the Constitution that describes the limitations placed on Congress in terms of its power to regulate commerce. This section made it clear that the US government could not impose taxes on exports or allow slavery.
Another critical part of the Constitution that Morris had a hand in was Article IV, Section 3. This provision included the Fugitive Slave Clause, which required states to return escaped slaves to their owners. Morris, who was a strong anti-slavery advocate, recognized the moral issues raised by this clause. Nonetheless, he agreed to its inclusion because he thought it could ensure that southern states who threatened to break away from the union would remain part of the United States.
Morris's other contributions to the Constitution include drafting the language for the Senate and describing the presidential veto power. But, his contributions to the American political landscape did not end with the drafting of the Constitution.
In 1789, Morris was appointed as the US ambassador to France. While serving in that capacity, he observed the chaos of the French Revolution and its bloody aftermath. Morris became convinced that a strong central government – such as the one he had helped create in the United States – was necessary. This experience helped shape his later views as an ardent Federalist.
After his return to the United States, Morris became heavily involved in politics. He was a strong supporter of the Federalist Party and had many friends in high places. Although he never held high public office, Morris was always in the middle of important political discussions. His opinion was often sought and respected by many politicians.
Morris and his close friend Alexander Hamilton were instrumental in the creation of the New York Society for the Promotion of the Manumission of Slaves. The society worked to free slaves and also helped them adjust to their new lives. Morris himself was an outspoken abolitionist, although his family owned slaves.
In 1806, Morris suffered an injury that resulted in the amputation of his right leg. Despite this handicap, he continued to work in politics and was appointed by the state of New York to write the first codification of its laws.
Morris continued to be a prolific writer and political commentator throughout his life. He believed that the United States was a beacon of hope and that it had a responsibility to take a leadership position on many world issues.
Death and Legacy
Gouverneur Morris died on November 6, 1816, at the age of 64. He was buried at St. Ann's Church in the Bronx. Morris's reputation as a brilliant political thinker and writer continues to this day. He is remembered as a key figure in the early days of American democracy and as one of the most critical framers of the Constitution. 
Although Morris was often overshadowed by some of his more influential peers – men like George Washington, Thomas Jefferson, and Alexander Hamilton – he remains a vital and essential figure in American history. Without his contributions to the Constitution, the United States might have taken a vastly different path, and historians may well view him as one of the founding fathers of American democracy. His legacy and influence live on in the present-day United States, a nation he helped to shape and build.
---
Founding Fathers: Gouverneur Morris
Gouverneur Morris was born on January 31, 1752, at Morrisania estate, in Westchester County, New York. His family was very well off and had a long record of public service. His older half-brother, Lewis, was also a founding father who signed the Declaration of Independence.
Gouverneur Morris was educated by private tutors and later attended a Huguenot school in New Rochelle. In the early part of his life, he lost one of his legs in a carriage accident. He went to King's College in New York City and graduated at the age of 16 in 1768. He then read law and after three years. After this, he gained admission to the New York bar.
When the American Revolution loomed on the horizon, Gouverneur Morris became more interested in political matters. Because of his conservative views, he first feared the movement. However, at the beginning of 1775, he sided with the Whigs. That year, he represented Westchester County and took a seat in the Revolutionary provincial congress of New York from 1775 to 1777. In 1776, when Gouverneur Morris also served in the militia, he drafted the very first constitution of the state of New York. He also joined the council of safety in 1777.
From 1777 to 1778, Gouverneur Morris sat in the legislature, and from 1778 to 1779, he also sat in the Continental Congress as one of the youngest and most intelligent members. During this time, he signed the Articles of Confederation and also drafted instructions that provided a partial foundation for the treaty ending the Revolutionary War. He was also a close friend of George Washington and one of his most powerful congressional supporters.
Gouverneur Morris ran for reelection to Congress in 1779 but lost. He then relocated to Philadelphia and went back to practicing law. In 1781, he went back to his public career as the principal assistant to Robert Morris, which he held for 4 years.
Gouverneur Morris became one of the leaders at the Constitutional Convention. He also served on many committees and was involved in drafting the Constitution. Later, Gouverneur Morris left public life for a time to focus on. In 1789, Gouverneur Morris joined with Robert Morris in a business venture and traveled to France, where he saw the beginnings of the French Revolution.
Gouverneur Morris stayed in Europe for about a decade. In 1792, President Washington appointed him as Thomas Jefferson's replacement as Minister to France. In 1799, he returned to the United States. The next year, Morris was elected to complete an unexpired term in the United States Senate. As a strong Federalist, he was defeated for reelection in 1802 and left office the next year.
Gouverneur Morris and moved to Morrisania. In 1809 he married Anne Cary and had one son. During his final years, he continued speaking out against Democratic-Republicans and strongly opposed the War of 1812. Between 1810 and 1813, he also served as a chairman of the Erie Canal Commission.
Gouverneur Morris died at Morrisania, New York on November 16, 1816, at the age of 64. He was buried in New York City at St. Anne's Episcopal Churchyard.